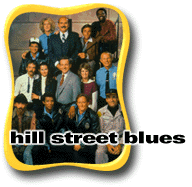 HILL STREET BLUES is an innovative, one hour police series focusing on a dedicated, embattled group of officers assigned to a thankless shift at a station precinct in a decaying section of a large eastern city - and their resulting, often comic contact with the community.
HILL STREET BLUES stars Daniel J. Travanti as Capt. Frank Furillo, a two-fisted yet sensitive leader placed in a difficult position of responsibility - understand and usually under fire from all quarters, including superiors, gang and community leaders, defense counsels, his head-strong men and his ex-wife.
Veronica Hamel co-stars as the attractive and determined public defender Joyce Davenport, who challenges Furillprofessional necessity that makes their secret romance 's methods day by day - even more provocative.
The roster of colorful stationhouse hands assigned to patrol the mean streets includes Michael Conrad, who co-stars a s Sgt. Philip Esterhaus, Furillo's towering, uniformed right-hand man. Rene Enriquez portrays the sympathetic Lt. Ray Calletano. Kiel Martin plays the handsome, womanizing Det. Johnny La Rue, who teams with vice cop Det. Neal Washington, played by Taurean Blacque.
Bruce Weitz is Mick Belker, an undercover cop with a strange penchant for biting ankles of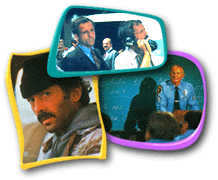 criminals. Michael Warren plays Officer Bobby Hill, the level-headed half of a patrol team that includes his cowboy-booted partner, Officer Renko, portrayed by Charles Haid.
Others in the cast include James Sikking as Sgt. Hunter, the gung-ho commander of the S.W.A.T.-like E.A.T. unit (Emergency Action Team); Joe Spano ak Henry Goldblume, a methodical police hostage negotiator; Barbara Bosson as Fay Furillo, Frank's ex-wife; and Betty Thomas as the humorous, desk-bound Lucille Bates.
'Our show has a lunacy, strong drama and an essential reality that we stretch occasionally', said Steve Bochco, co-executive producer. 'It's a big, sloppy, hard hitting and warm show. 'Hill Street' is about cops and how and why they do what they do. This is not a show, by an large, about catching bad guys.'
Steven Bochco and Michael Kozoll are the executive producers and Gregory Hoblit is the producer.