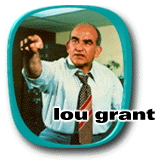 Ed Asner stars as the tough-on-the-outside, soft-on-the-inside city editor of the Los Angeles Tribune. The newspaper is owned and run by the very proper and business-minded Margaret Pynchon (Nancy Marchand). The rest of her journalistic staff include Charlie Hume (Mason Adams), the managing editor and Louís boss and friend; investigative reporter Joe Rossi (Robert Walden), whose ego and aggressiveness sometimes get in the way of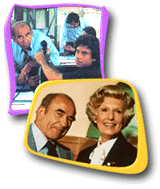 his writing talent; Billie Newman (Linda Kelsey), Rossiís competitive colleague who usually handles her assignments, but not always Rossi, with more finesse; assistant city editor Art Donovan (Jack Bannon), who provides an aura of stability to the office; and Animal (Daryl Anderson), top-flight news photographer whose personal appearance and laid-back style belie his on-the-job tenacity.
Lou Grant serves up front-page news on political corruption, freedom of the press, nursing home fraud, nuclear protest, chequebook journalism and more, but always dealing with the lives of real people, and always handled in a tough, yet understanding manner by the city editor.