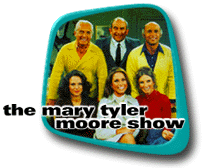 Mary Tyler Moore stars as Mary Richards in THE MARY TYLOR MOORE SHOW, one of the most realistic, well written and enduring situation comedies of all time.
Mary Richards comes to Minneapolis after breaking up with her longtime boyfriend, determined to make it on her own. Ambitious and looking for a new life, she moves into an apartment building and lands a job as the associate producer of the local news show on WJM-TV.
In her early 30's, Mary would like to settle down and raise a family, but is not desperately grabbing at any chance for marriage. She will get married, but only to the right man.
The supporting cast is one of the best ever ensembled for a sitcom. Edward Asner co-stars as Lou Grant, Mary's cantankerous boss, whose gruff facade often hides a soft sympathetic interior. Ted Knight plays Ted Baxter, WJM's egotistical, inept anchorman, and Gavin MacLeod plays Murry Slaughter, the sarcastic head news writer with as unwavering, positive outlook on life.
Valerie Harper plays Mary's next door neighbor and best friend, Rhoda, a window dresser for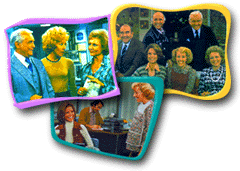 a local department store, who like Mary, was single through her 30's. Unlike Mary, however, Rohda is desperately looking for a husband.
Rounding out the cast is Betty White, now famous for her role in 'The Golden Girls', as Sue Ann Nivens, WJM's man hungry 'Happy Homemaker', Cloris Leachman as Phillis Lindstrom, Mary's pretentious, busybody landlord.
THE MARY TYLOR MOORE SHOW is one of the most influential in television history. The show spawned more successful spin-offs, (Lou Grant, Rhoda and Phyllis, than any other sitcom in history, and its creative alumni have created such shows as The Simpsons, The Cosby Show and Cheers.
Mary Tyler Moor left an indelible mark on television. Along with Lucy, she is probably the important female ever to star in a sitcom.